Over the years we have developed several web site businesses, built an impressive affiliate network, established long term banner advertising relationships and a number of opt-in email partners which help generate new leads each day.
Our web sites and lead capture programs never offer incentives to a user to complete a form for more information.
Most of our leads are generated through our very own network of web sites which see over 1 million unique visitors a day. The web sites range in content and type. Each site is developed around a different industry and offers exit pages and links to encourage a user to request more information. The web user submits detailed information into our custom on-line forms based upon a certain genre. The lead is then instantly sent to FindMyLeads within a matter of seconds. Users of FindMyLeads can log-on and purchase leads before the user even logs off of the internet.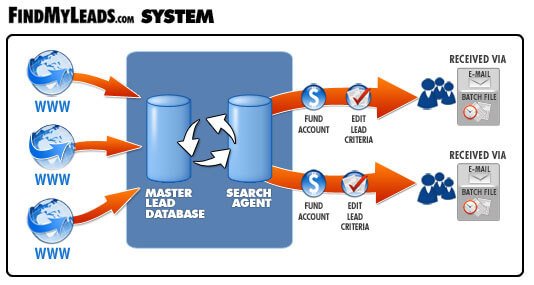 Accurate Data Collection
Our state of the art technology is quite proficient at making sure the data we acquire is accurate. We verify that the telephone number of the person completing an online form matches the state they claim to be from. We also verify that the phone number, email address and other data is formatted correctly in a uniform manner. Each lead we gather does contain the IP address of the computer used to acquire the lead as well as the actual date, time, URL and page the user used to request the information. Although we do not disclose this to you when you purchase a lead we do maintain the data in our database for future reference.
On occasion you may download a lead that has an accurate phone number as well as email address, but the customer states that they did not complete the form or request information. In this case you will need to contact our customer support office to request an investigation. We take these investigations very seriously. In the event that our investigation proves fraud we will take all needed measures to prevent the action from happening again. This may lead to a user's account being closed or a lead source being prosecuted.
Some of our websites provide leads for these business verticals:
Legal Services
Credit Repair
Debt Reduction / Management
Mortgage
Tax & IRS Problems
Real Estate
Consumer Loans
Business Loans

. . . and many, many more !
At FindMyLeads we pride ourselves for superior customer service, and the highest quality sales Leads available in today's marketplace.